Saint Didier is located near Carpentras, to the east of Avignon in the department of Vaucluse.
Avignon has excellent communications:
By road, the A7 autoroute (l'Autoroute du Soleil) from Lyon/Paris to the north or Marseille/Nice to the south and east, and also the A9 from Nîmes/Toulouse and the south-west, pass nearby. The route from Bollène to Carpentras passes through the impressive vineyards of the Côtes du Rhône bordered by the majestic Dentelles de Montmirail.
By rail, Avignon is a main junction for all routes with frequent TGVs (Train à Grande Vitesse) - and also EuroStar during the summer - arriving at the new station located in the south-eastern suburb of La Courtine . All of the well-known car rental companies have collect and drop-off locations close by.
By air, Avignon with Flybe flights from Exeter/Portsmouth is about 30 minutes drive. Marseille international airport at Marignane and Nîmes are about 1 hour. Other major airports within 2½ hours' drive are at Nice, Lyon and Montpellier.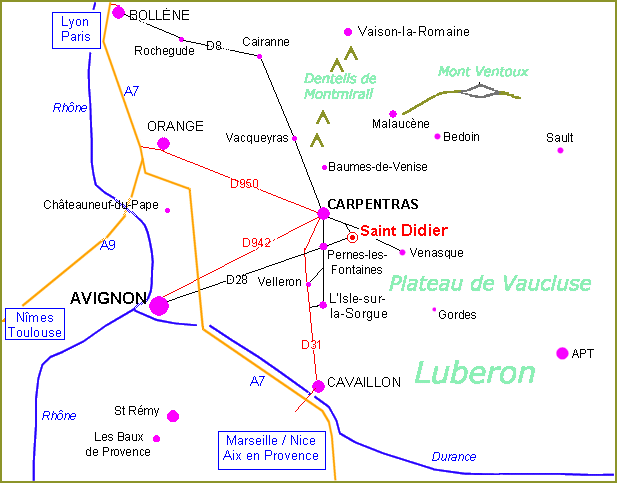 The local map of the village shows some useful landmarks: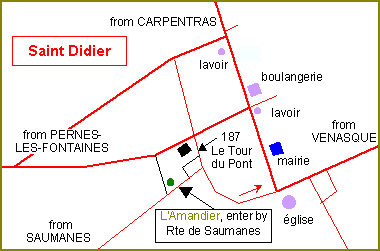 arriving from Carpentras, turn right at the second Lavoir (public washing fountain) next to the Boulangerie, then turn first left at the large cross-roads
arriving from Pernes-Les-Fontaines, follow the main fork to the right on entering St Didier, then turn right at the large cross-roads
Take the immediate right by the war memorial, direction Saumanes. After 50m, pull in at the owners' gates set within stone walls.