| | |
| --- | --- |
| | Pernes-Les-Fontaines |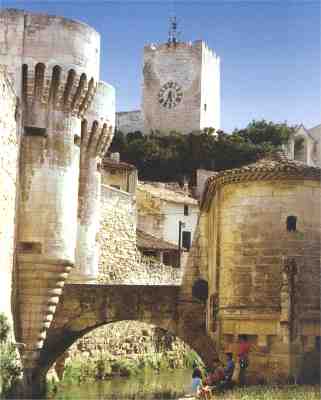 This ancient town, the capital of the Comtat Venaissin until 1320, retains much of its mediaeval character with three gates and sections of the original skirting ramparts remaining intact.

The river Nesque to the north forms a natural moat, where a marvellous corbelled bridge, complete with a small chapel over one of its piers, leads to the twin crenellated towers of the Porte Notre-Dame, a fitting entrance to a charming world of winding narrow streets that tempt the visitor to explore. A small square with an open market hall to the right leads to the ancient keep, now known as the Clock Tower.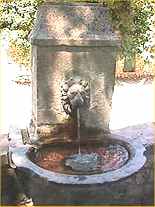 The scene is particularly colourful on a Saturday morning when the weekly market winds its way along the riverside, certainly a most delightful local market to visit.

Pernes-Les-Fontaines is, of course, also known for its fourty or more fountains to be found throughout the town, and also for its elaborate wrought-iron steeples, a distinctive Provenšal tradition.


Founded during the gallo-roman period, first mention of a settlement dates back to 994 as being the location of a villa, probably unprotected, though by the 10th century, there is evidence of a loose fortified collection of houses with the river Nesque forming a natural barrier to attack from the plain. By 1125, Pernes had grown sufficiently for it to become a small city, capital of the Comtat Venaissin, under the rule of the Count of Toulouse. The turbulent era of the Albigensian heresy, in which the Counts of Toulouse and Provence supported the wrong side, eventually lead to the Comtat becoming a papal territory with the Treaty of Paris in 1229.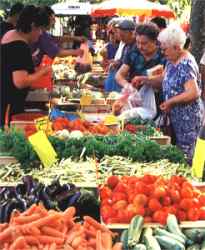 Subsequent papal patronage when the popes established residence in Avignon benefitted the city, though Carpentras clearly was favoured more as that town soon became the capital of the Comtat.

Undoubtedly, the greatest fillip to Pernes, and to the Vaucluse plain in general, was the irrigation made possible by the building of the Carpentras canal during the 19th century which resulted in the region becoming a major grower of fruit and vegetables, these products remaining the basis for the local economy.

It was during the 19th century that the many fountains were constructed, and Les-Fontaines was added to the name of the town.


Pernes-Les-Fontaines has a very enlightened council that organises frequent shows and exhibitions during the year, usually with a strong cultural theme, with singers, dancers and musicians drawn together from all parts of the world. It is always a lively vibrant place with many bars and restaurants. And do not miss the Saturday market!